Braces In Bellflower – FAQs
Dreamland Orthodontics is able to offer straighter teeth faster by using the highest quality braces and wire system.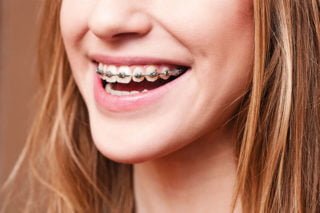 I have lost a tooth, should I get an implant or braces?
Before getting an implant, its best to also consult with an orthodontist to diagnose if the space can be closed using braces or Invisalign treatment. Your dentist and orthodontist will take comprehensive measures to discuss all options and to diagnose and recommend the best treatment plan for your situation based on your occlusion.
Am I too old to get braces?
There is no age limit for orthodontic treatment. Everyone deserves to have their dream smile. However, in cases of severe periodontal disease or decay, orthodontic treatment may not be the best option and treating the periodontal disease and decay would take priority over receiving orthodontic treatment. Your orthodontist and dentist will work hand in hand to make sure your mouth is cavity free and in great periodontal health.
How long do I have to be in braces for?
Depending on your condition and the difficulty of the case, your orthodontist will diagnose how many months is required to complete the proposed treatment plan. Orthodontic treatment can range anywhere between 6 to 24 months depending on the complexity of the occlusion and the alignment of the teeth. However, on patients that have had phase I or early orthodontic treatment will usually need less time to achieve optimal results.
Does it hurt to have braces?
There is some discomfort after the wire has been placed for the first time or if the wire has been tightened (changing ties). The discomfort usually starts 24 hours after activation and it lasts for 2-3 days. In severe cases, it is recommended to take over the counter pain medication.
Call us to make an appointment at 562-867-2026 and get all your questions answered at a personal level.